3.5 Converting a FITS File to a Map
FITS files can be converted to maps by using the procedure fits2map . The following example reads and converts a SOHO/MDI full-disk magnetogram FITS file into a map, and plots the result:


IDL> fits2map,'smdi_maglc_fd_19980331_1117.fts',map,header=header
IDL> loadct,0
IDL> plot_map,map


The keyword header optionally returns the string header of the FITS file.
Fig. 5 - MDI map
3.6 Correcting for Solar Differential Rotation
The function drot_map rotates a map using the solar differential rotation formula of Howard, Harvey, and Forgach, Solar Physics, 130, 295, 1990. Since the formula is derived from statistical studies of small-scale magnetic features, it is most accurately applied to photospheric images and is less accurate when applied to transition region and coronal images observed by EIT and SXT, respectively. The following example demonstrates the differential rotation of the above full-disk SXT image over 4 days.


IDL> gmap=grid_map(sxt_map,256,256)
IDL> dmap=drot_map(gmap,4,/days)
IDL> plot_map,sxt_map,/log
IDL> plot_map,dmap,/log,/new,/limb


Fig. 6 - Rotated SXT map
Because solar rotation involves interpolating each pixel to a new location, processing large 512x512 or 1024x1024 images can be very time-consuming and memory-intensive on some systems. In the above example, the SXT map is rebinned to a more manageable 256x256 size prior to rotation. The function drot_map accepts map and duration (in hours) as input arguments. It also supports the following keywords:
/days: specifies that input duration is in units of days.
/secs: specifies that input duration is in units of seconds.
time=new_time: specifies the new time to which the image is to be rotated. In this case, the duration argument should not be used (since it always takes precedence).
missing=value: specifies the value assigned to pixels that have rotated out of the field or over the limb -- the default is 0.
The function drot_map combines regridding, roll-correction, and translation through the following additional keywords:
space=[dx,dy]: specifies new pixel spacings.
roll=new_roll: specifies new roll angle (in degrees).
center = [rx,ry]: specifies new roll center.
trans = [xs,ys]: specifies translation shifts in the x- and y- directions.
ncenter = [nx,ny]: specifies a new center coordinate for the solar-rotated image.
ref_map=ref_map: specifies a reference map to which the input map is to be mapped (i.e, use reference map time, spacing, roll, center, ncenter, etc).
4. OVERLAYING MAPS
Maps are graphically overlayed using the keyword /over in plot_map . In the following example, an SXT map is contoured over an EIT map.


IDL>plot_map,eit_map,fov=sxt_map,/log  ;-- first plot EIT 
IDL>plot_map,sxt_map,/log,/over,/rotate  ;-- then contour over SXT


The fov keyword is a map structure from which plot_map infers xrange and yrange values. In the above example, only the sub-region of eit_map that overlaps with that of sxt_map field-of-view is displayed. This keyword is optional. Different sub-regions can be displayed also via the xrange and yrange keywords.
The /rotate keyword corrects for solar rotation of the overlayed image relative to the first. This correction is important if the time difference between images is more than several hours. The overlayed image can be rotated to a specified time via the keyword time.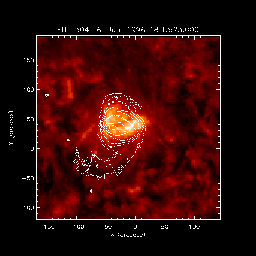 Fig. 7c - SXT/EIT Overlay