| | | |
| --- | --- | --- |
| | NASA's Goddard Space Flight Center | |

These pages are about solar flares, the biggest explosions in the solar system. Their purpose is to provide
some general information about solar flares.
a "feel" for scientific research into the energetic emissions from flares.
a glance into the future of solar flare research.

In these pages we address the general questions:
and the following questions specific to the study of solar flares in hard x-rays:
What are hard x-rays?
Why study solar flares in hard x-rays?
What does a solar flare look like when seen in hard x-rays?
Why does the solar flare look like this in hard x-rays?

What does this have to do with NASA?
X-rays from the Sun and other objects in the sky
can only be observed from above the Earth's atmosphere.
Solar flares have been imaged by the Hard
X-ray Telescope on the Yohkoh Satellite.
NASA's Ramaty High Energy Solar Spectroscopic Imager
(RHESSI) is currently observing the high-energy radiation
from solar flares.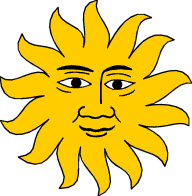 Space Weather: What Impact Do Solar Flares
Have on Human Activities?
Read "The Mysterious Origins of Solar Flares"
in the April, 2006, issue of Scientific American
Assemble a Paper Model of the RHESSI Spacecraft
(Requires Adobe Acrobat Reader)

Use the knowledge you gain from these pages to solve the
Solar Flare Theory Crossword Puzzle

Answers to Readers' Questions
Other Web sites and some good, old-fashioned books that contain information about the Sun
Several of the web pages in this site contain short video animations in Video for Windows (AVI) and MPEG format. These are best viewed with your video player set to continuously cycle (Auto Repeat) the video.


Next: What is a Solar Flare?


These web pages contain hyperlinks to terms in a solar physics glossary. Choose this link (if your browser supports frames) to view the glossary simultaneously with subsequent pages, starting with "What is a Solar Flare?".



Table of Contents


We would appreciate any questions, comments, or suggestions. Please send e-mail.

---
Pages Posted: September 23, 1996
Last Revised: August 1, 2007
---
---
This site is optimized for viewing on:
Netscape Navigator 3.0
or later

Microsoft Internet Explorer 3.0
or later