Education and Public Outreach (EPO)
Goddard EPO Site
Press Information
Classroom Activities
Berkeley EPO Site
Scientific Objectives of the RHESSI Mission
Brochure - RHESSI: Studying the Fundamental Aspects of Solar Flares
The Challenge - Making High Energy X-ray Pictures of the Sun
Flare Overview - What is a solar flare?
Solar Flare Theory Educational Web Site - Learn more about solar flares and solar flare research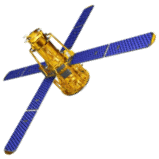 Demonstration of the RHESSI Imaging technique
The "Sounds" of RHESSI Imaging - listen to the sounds RHESSI would make if you had X-ray ears.
RHESSI Completes Second Successful Year of Solar Flare Observation
RHESSI Mission Press Kit (pdf)
RHESSI Pictures, Animations, & Videos
Extensive Destruction Press Release (December 8, 2003)
Antimatter Factory Press Release (September 2, 2003)
Secret Recipe Press Release (June 18, 2003)
RHESSI Captures New Light from Sun, Reveals Surprises in Solar Flares (June 5, 2002)
also see this article by Dr. Craig Deforest.
Spacecraft Fleet Press Release (May 28, 2002)

RHESSI Renamed (March 29, 2002)

First-Light Press Release (March 20, 2002)

Build a Paper Model of HESSI

How does RHESSI take a picture?
RHESSI Related Information